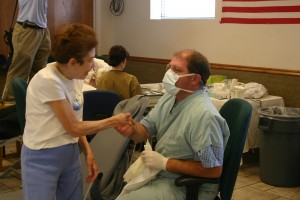 Share a Smile's focus has always been providing dental care to the needy in our own community in Utah County. Share a Smile works in partnership with the Food and Care Coalition of Provo to provide free dental services to the most needy in the community.
A hand up not a hand out
Share a Smile's program is unique in that services provided are not just a hand-out. Those receiving care are required to give back to the community. They provide community service for each dental visit.
Helping patients move out of poverty
Rather than receiving only emergency care, each individual receives full comprehensive care to restore the look and function of their mouth.  By restoring a patients mouth fully we allow them to become employable again and regain their health helping them to move out of poverty.  We strive to restore a patient's confidence in talking and smiling.
A local effort
Share a Smile's volunteers are all dental professionals in the Utah Valley area.
Our clinic is supported by Henry Schein Practice Solutions.